I am a big believer in having a rainy day fund; although everything is currently sunny/partly cloudy with my finances, I am not naive enough to think there will not be a forecast of rain in the future.
If you are at a point where you have decided to start/open/plan your emergency fund, and you know how much you want in there, but are unsure of where to keep it, you have come to the right place. Once I became debt-free (praise!) I immediately began saving for my fully-stocked emergency fund. I was putting the money I was saving every month into the savings account tied to my checking, but knew once my goal was met, I would need to store the money elsewhere. Through reading various books and blogs, I learned keeping your emergency fund in a place that is easily accessible and instantly transferable is a no-no regardless of your will power. Although you should never look at this fund as an investment, you should put it where it is at least gaining a little interest. Once I learned the above, I knew I needed to find a place for my fund to call home. Queue the confusion. I heard money markets this, high yield savings accounts that, CDs for sure, then the stock market, and I was like, oh my. Well, I finally decided to go with a money market account; and almost a year later, I am still thrilled with my choice.
Basic requirements you should expect from your money market/savings account:
– Fee-free: You should never be required to pay fees for someone to house your emergency fund. Not up-front, not annually, not ever.
– FDIC Insured: Make sure your money is protected.
– Easily accessible: This fund exists based on the fact that you will eventually need it, and need it relatively fast. It should not be as easy as swiping a card as this can cause spending temptations. Somewhere that can have your money to you within a day or two is ideal.
– A competitive interest rate: You might as well have some compounding interest accumulating in your favor while your money sits there until the rain comes.
– Zero Risk: This is your emergency fund which means it needs to be there for you during an emergency. Do not, I repeat, do not put your fund into any entity which involves risk; for example, the stock market.
Based off the above requirements, I quickly eliminated all other options and started researching 2: high yield savings and money market accounts. After speaking with a couple of companies, I decided to go with Capital One's 360 money market. This account is FDIC insured, fee-free, my money would be accessible, and they had the highest interest rate I had seen thus far. At the time, they were running a promotion where you received a $200 bonus for opening an account and depositing at least $10,000; it fit my situation perfectly. And to top all of this awesomeness off, if their interest rate goes up beyond what you signed up to receive, they automatically increase it without you having to do a thing; they just send you a quick email letting you know what your new interest rate rose to! Here is a screenshot of the last email I received from them: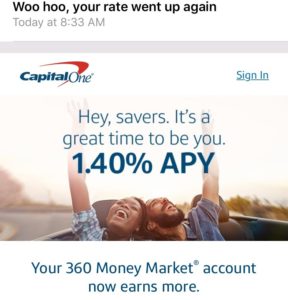 How much can you contribute?
You can contribute as little or as much as you'd like. Once you hit the $10,000 mark, you are rewarded with a higher interest rate:

Here is a live example of my account balance page to show you the interest accruing every month (and whew does it feel good to finally have interest working in my favor!):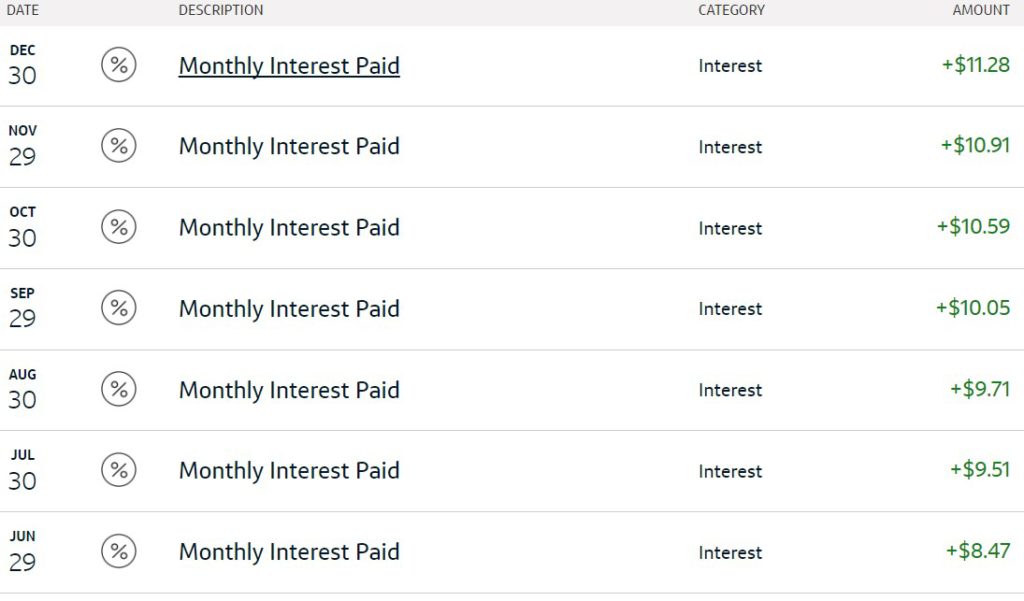 Sign me up!
The sign-up is a breeze and takes around 5 minutes. Once you are ready to open your account, click here to go straight to their sign up page, and follow the simple step-by-step directions below:
Click on "Apply Now" for the middle option reading, "360 Money Market"

Next, let them know if you already have any type of Capital One account such as a credit card. If "yes," it will prompt you to sign in to your existing account so it can link them together and you can skip some of the information questions.
For the purpose of this tutorial, I will click "No," and guide you from there.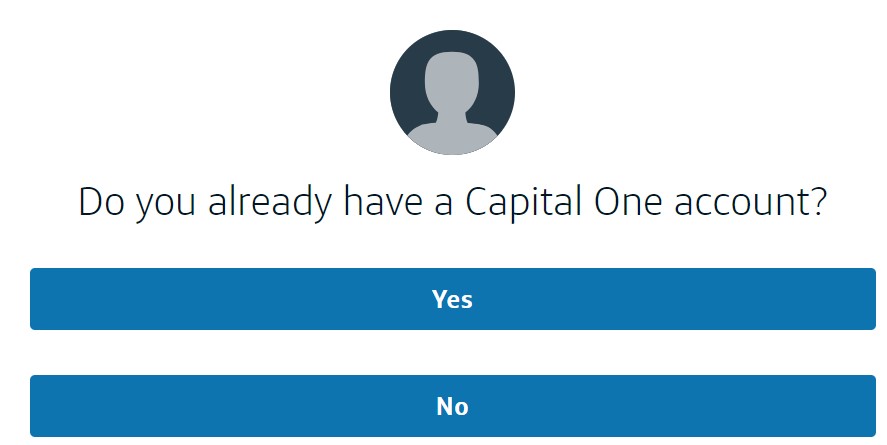 You will be asked to fill out all of your personal information.
Once you complete that section, click on "Now Let's Add Money"

From here, you will have access to your new Capital One 360 account so follow the prompts to continue the opening process by linking your banking account information where you will be making your transfer from. Once you transfer your funds from your bank to Capital One, it takes about a week to process then you will see your money and can rest assured knowing you have your emergency fund all set up!
Don't forget, you can save your money in your bank's checking/savings account first then transfer the lump sum over, or you can open your 360 account with nothing in it and start contributing to your fund via daily/weekly/monthly increments until reach the magic number you have set for yourself.
Open your account by clicking here.
Happy saving!